The #Refillution has hit (and too right too) and this week we see National Refill Day encourage people to simply refill their reusable water bottles, rather than buying a single use plastic bottle. It's as simple as that but currently less 30% of people in the UK do it – crazy!
Currently, the average person in the UK uses 150 water bottles per year. If even just one in ten of us refilled our bottles once a week, it would mean 340 million less plastic bottles would be in circulation. Seems a no brainer. Get refilling guys! There's no better time to start than National Refill Day!
Anyway, here at ecoegg, we might not be about refilling water bottles (although we obviously do that too), but we are about refilling Laundry Eggs with mineral pellets that clean your clothes and make your laundry as fresh as can be! Using an ecoegg Laundry Egg reduces the need for single use plastic bottles from your laundry detergent and fabric conditioner. In fact, you could save the need for around 40* single use plastic bottles per year (from laundry detergent and softener).
How does it work?
Well, once you've bought your ecoegg Laundry Egg, filled it up with pellets as per the instructions and used it 70 times, you simply refill it with more Laundry Egg Refill Pellets! Then you're ready to chuck it in the drum of your machine with your clothes, turn it on and let the magic happen. It will last for ten years (and if not you're covered by our 10 year guarantee).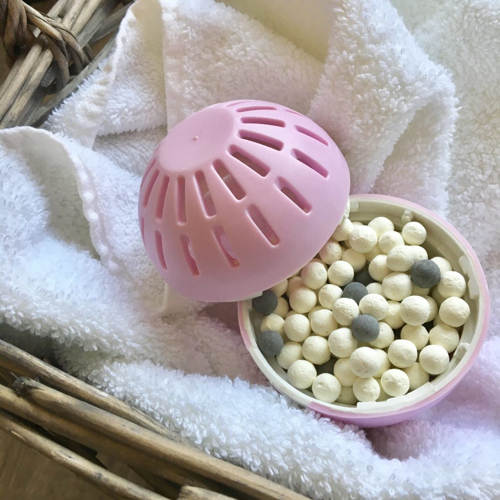 So, how do you refill your egg?
After 70 washes, press the white button on the egg in and gently twist, being careful not to spill the pellets.
Dispose of them into the rubbish and refill with Laundry Egg Refill Pellets.Your Refill Pellets will consist of two bags of white mineral pellets and one bag of dark grey Tourmaline Pellets.
Then, close the egg by lining up the triangles on the top and bottom half of the egg and turn to lock close. Double check its sturdy!
Wash, wash, wash (x50) and repeat!
Laundry Eggs – support the Refillution!
Limited Edition Refills available now!
*Based on doing one wash per day, with an 18 wash bottles.