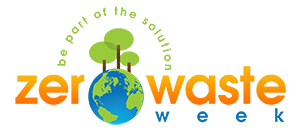 We can't believe another year has passed and we're in September and ready to raise awareness of Zero Waste Week 2020 once again. To say the least, it hasn't been the year we had all planned and with the COVID-19 pandemic effecting every aspect of life, it has in some ways (and understandably so) made it harder to reduce our waste too.
This Zero Waste Week we're focusing on how you can reduce your waste in your laundry routine – from reducing plastic and energy too.
Energy Efficient loads
Obvious, yet so easy to do, is always ensuring you have a full load of washing before putting a wash on, and if you haven't got a full load, think about other things that you can add to the load that you may be washing soon anyway. Perhaps tea towels, blankets, bath towels or cloths that will ensure the load is full and therefore more energy efficient (and cost efficient too).
Say no to Fragrance Boosters and Dryer Sheets
We're so accustomed to laundry smelling highly fragranced but the reality is these 'extra' laundry luxuries come at the expense of single-use (often non-recyclable) packaging, and harmful chemicals. Let a lone costing you more, excelling your cost per wash quite dramatically! You can try our ecoegg Dryer Eggs for a long lasting alternative to Dryer Sheets, and try getting used to clothes that don't smell perfumed. Just because you can't smell them, doesn't mean they're not clean!
Try omitting the tumble dryer all together when you can too. We always recommend line drying wherever possible and only using the tumble dryer when you need to.
How often do we need to wash laundry?
Not as often as you may think. Not everything needs washing immediately after use. Thing like pants, socks and tea towels should be washed every day but jeans, jumpers and bras can be after every few wears. And for things like blankets, outerwear and shower curtains, you don't need to worry about those every three months. Check out our guide below…

(*Advice via Good Housekeeping)
Washable Masks for COVID-19
Face masks are part of life now, and could well be for a long while to come yet so, wearing washable masks, and having a couple on rotation so you can launder them in between is a great way of reducing waste too.  An article from The Guardian reports that due to their 450 year life span, there could be more disposable masks than Jellyfish in the sea in the near future.
No More Plastic Bottles
Make the switch to an ecoegg Laundry Egg and save up to 40 single use plastic bottles each year per household, plus wave goodbye to harmful chemicals in your laundry routine, better for the environment and your skin too . Imagine if 1 million people made the switch?