Brits want a more eco-friendly household – we aim to help as ecoegg launches in Waitrose & Partners stores across the UK!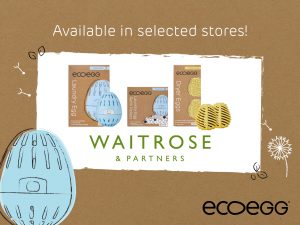 Thanks to the likes of David Attenborough, Greta Thunberg and other high profile celebrities, Vivienne Westwood, Ellie Goulding and Leonardo di Caprio to name a few, we are all more aware of the impact of climate change and the importance of protecting our planet for future generations. Thanks to them, we're excited to say that ecoegg launches in Waitrose & Partners!
In a recent piece of research conducted by YouGov on behalf of Ecoegg, it was revealed that eight in ten Brits want an eco-friendlier household. However, only a third are actually buying items that claim to be environmentally friendly. Is it that these types of products are just not as accessible as they should be? Fear not, we're looking to change that, for laundry at least.
Supermarkets
Here at Ecoegg, we think environmentally friendly alternatives to household products should be readily available to consumers. Just as much as 'normal' products are. So, we're incredibly excited to announce that ecoegg products are now available at Waitrose & Partners.
Supermarkets play an important role in enabling you to make small, positive environmental changes. Therefore, our hope is to make ecoegg products more widely available in your local grocer. Especially, as many grocers look to improve their range of environmentally friendly options while you shop.
Not only would we like to see ecoegg Laundry Eggs and Refills available more widely but we hope to see other eco-swaps too. Things like bees wraps wax, bamboo cotton buds and loose vegetables should become more accessible over the coming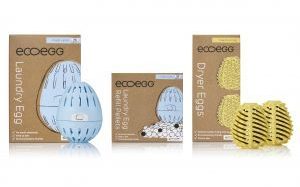 months too. We must remember, small changes mean big differences! And they don't always have to come at a cost.
Affordability
Affordability is key, and our ecoegg Laundry Egg and Laundry Egg Refill Pellets work out, between 10-14p per wash. This means it's not just kind to the environment, but it's kind to your pocket too. Blogger, and mum of two (soon to be three), Emma Ross, @Mamalina says "Compared to typical detergent where you're getting through a big plastic bottle every week, this is so much more sustainable and eco-friendly. When you do the sums it works out as
really good value per wash, and affordability is important to me too. It's all very well being eco-friendly but if it's going to cost a fortune then that's not so appealing."
Customers will now be able to purchase an ecoegg at Waitrose & Partners. The ecoegg Laundry Egg & Laundry Egg Refill Pellets and Dryer Eggs can be found in the laundry aisle of selected stores, and at waitrose.com.
Find ecoegg in a Waitrose & Partners store near you.